We manage the complete lifecycle of the facility throughout its total life
Let us manage the complete lifecycle of the product: not only the engineering and manufacturing but also the maintenance and technical support by our experts team, throughout the total life of the structure. We offer continuous support 24/7.
Keeping your facility at its best so you're prepared for the worst
More information on warranty & maintenance
With industry leading durability, easy set-up & low maintenance, you probably won't need much, but still we offer you the best of all worlds with a comprehensive flexible warranty, including:
Annual refresher training

24/7 technical support

Semi-annual on-site technician visit

Complete system inspection, validation and function checks

Software upgrades (main control box, simulation, VR/AR)

Inspection of the facility and basic on-site repairs

On-site stock: spare parts and repair materials
As an extension of our commitment to enhancing the training environment, we developed a systematic approach to solving problems in a combat tactical environment.
Treetac provides realistic tactical scenario settings led by SOF instructors that will allow you to take full advantage of your facility, while reinforcing tactical techniques. ask us for more information
Set-up
We will manage the complete facility set-up process including the provision of manpower, machinery and materials at your location
Long term service
We offer a comprehensive flexible maintenance package, extended warranty and 24/7 technical support
Shallow foundations
No need to spend time and money on a traditional foundations; a simple concrete platform is all we need for set-up
Portability
Facilities are completely portable: Because they are based on 40 feet containers, they can be packed and transported anywhere, by land or sea
Short delivery time
Facilities can be delivered and set up within an extremely short period of time, ready for your first training, usually within 5 months
Simulation by North American Rescue
Introducing dynamic, expandable, full-mission profile simulation training equipment, taking force-on-force and scenario-based training to new levels of realism
We manage the complete lifecycle of the facility throughout its total life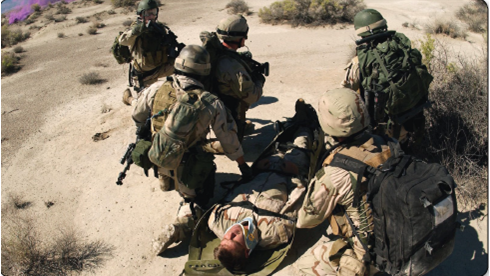 We will build your team to master field medicine and first response skills through classes, simulation and training